Under hösten läste jag kursen "Policy analysis for labor economics", i vilken jag skrev ett term paper där jag utforskar en forskningsfråga och föreslår hur man empiriskt skulle kunna undersöka den. Jag valde att skriva om frågan vad det samhälleliga värdet av högre utbildning är, med titeln "Estimating the social returns to education". Även om vi kan uppskatta avkastningen av universitetsutbildning för den enskilde individen i termer av högre framtida lön så är det inte nödvändigtvis så att samhällets vinst är proportioneligt stor. Detta eftersom utbildning inte bara handlar om att skaffa sig humankapital utan också om signalering, vilket gör att högre utbildning för individen medför en negativ externalitet för andra på arbetsmarknaden. Pappret är länkat här.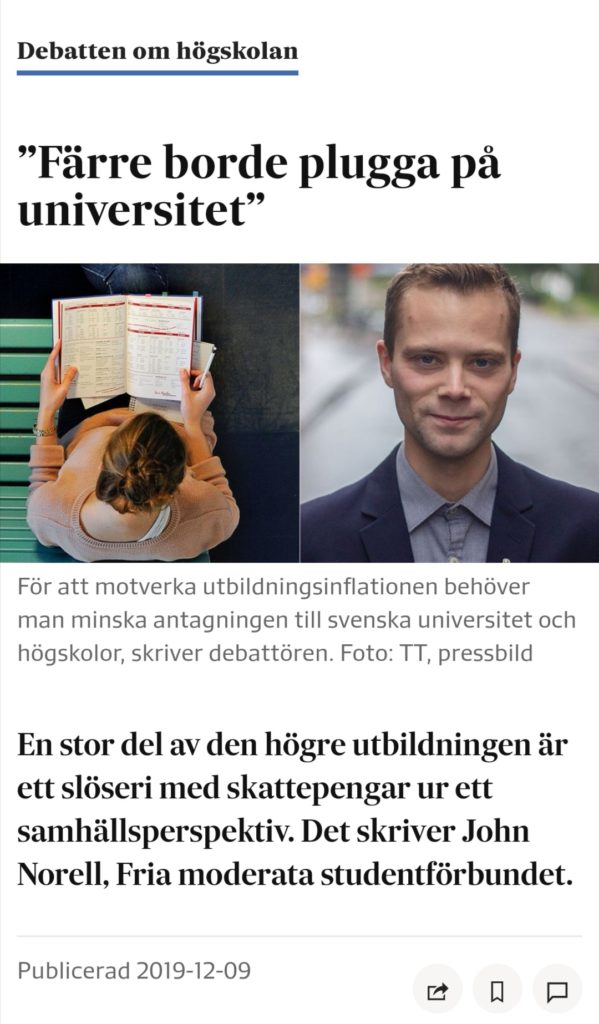 Efter att ha satt mig in i forskingen kring fältet skrev jag även en artikel i SvD, "Färre borde plugga på universitet", (publicerat i tidningen 10 december) där jag argumenterar varför det vore rimligt att sänka antagningen till universitet och högskolor för att på så sätt motverka utbildningsinflation. Länk till artikeln på nätet finns här.
Jag fick två repliker på min artikel, så skrev även en slutreplik, "Lösningen är inte alltid mer pengar", länkad här.
Jag gjorde även ett debattinlägg på samma fråga på svt opinions webbsida, "Färre borde plugga på universitetet", länkad här.